Bible Reading vs. Scripture "Engagement"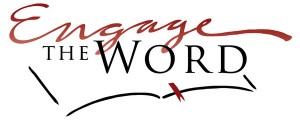 Have you been "just reading" your Bible lately, or getting experiencing "Scripture engagement"? There is an unmistakable difference. While reading the Bible makes for an informed congregation, getting engaged in the Word of God creates transformed churches, homes and communities. There is nothing more exciting than to see the people you serve or your family becoming powerfully engaged with God's Word; to see it come alive among them.
Consider the contrasts of "reading" versus "engagement" of Scripture:
READING THE BIBLE INVOLVES…                             ENGAGING GOD'S WORD INVOLVES…
Gaining Factual Information.                                          Experiencing Personal Transformation.
"Having" your devotions.                                                Becoming more devot-ed . . . to Christ.
Applying the Bible to your life.                                       Applying your life to the Bible!
Learning about Bible stories.                                         Learning FROM Bible Stories.
Simply surveying the words.                                          Sincerely obeying God's Word.
A dutiful discipline.                                                       A compelling desire.
Reading the Bible.                                                        Letting the Bible "read" you.