10 Great Questions to Ask Your DAD!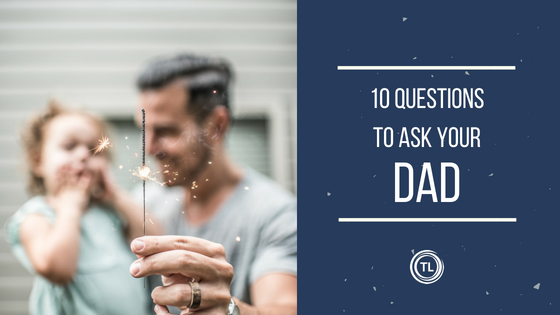 Sometimes the best thing you can give your dad is a little more genuine INTEREST in him and the things that INTEREST him. Take a few minutes at a good moment this year to not just give your dad a gift on Father's Day, but to discover more of the "gifts" that lie within him, in his hear and mind, just waiting to be discovered. A good question can open a conversation; but a great one can open a soul! Give it a try and when he answer – listen closely!
Use the questions you think he will like the most. Here are a few just to get you started:
Who is going to win the World Series this year? What about the Super Bowl?
What's your favorite movie of all time? Want to watch it together … TODAY?
What's one of your favorite meals that you have not had in a long time?
What were you like when you were 10 years old? … 16? 21? Etc.?
Where is a place you would really like to visit one day?
What are 3 things you've tried to teach me over the years that you hope I'll NEVER forget? How am I doing, so far?
What is your favorite memory of YOUR dad?
Who is another father you really admire? What quality do you respect the most?
What's one thing you'd really like to do on Father's Day … or ANY day?
Do you like to look at God as your "Father"? If so, what do you appreciate the most about the way he "fathers" you?